Are all the cakes shown on your website your own work?
We are proud to say that all the cakes shown on our website are the work of our talented team of decorators. We do not use stock photos or seek to enhance our portfolio by showing photos of the work of other cake decorators even for 'ideas' or 'inspiration'.
How much are your cakes?
We have no set designs, we tailor make everything to your specific requirements and all cakes can be made in a variety of sizes and flavours and with personalised decoration. Therefore, there are too many variables which affect the price to be able to publish full price details.
There is a guide to starting prices on the Prices and Delivery page which will give you an idea of the price of a basic cake. Obviously, the larger the cake and/or the more complex the design, the higher the price will be. Please either call on
0118 946 1112
or
01491 873332
or
email
with as much detail of your requirements as possible and we'll be able to give you a price for what you are looking for.
How do I order a cake?
If you are interested in ordering a wedding cake please either telephone us or complete the enquiry form with your requirements and we will contact you to either discuss things over the phone or make an appointment for a face to face consultation.
What are your business hours?
We are available on
0118 946 1112
between 9am and 6pm Monday – Friday and 9am and 4pm Saturday. Our design studio in Moulsford is open from 9am – 5pm Monday to Friday and the number there is
01491 873 332
. Staff on either number will be able to help you. All consultations are by appointment. We have an answer machine on both numbers so if we are not around or cannot get to the phone please leave a message and we will get back to you as soon as we can.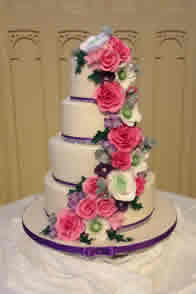 Can I visit your shop?
We do not have a shop. We have a design studio where we make our cakes. For your convenience wedding consultations and collection of wedding cakes & stands can be at either our design studio in Moulsford or our home address in Caversham.
Can I come and see you to order my cake?
All wedding cake customers are welcome to come and see us for a face to face consultation to discuss their requirements. Consultations are strictly by appointment and are usually available during the day or evenings at 8pm on Mondays, Tuesdays and Wednesdays and on some Saturdays (subject to wedding delivery commitments). As Thursdays and Fridays are our busiest days for completing cakes for the weekend we do not hold consultations on these days.
Can I come and see your cakes?
As everything is made to order we do not have any cakes available for viewing. However, every cake we make is photographed and we, therefore, have a huge portfolio of high quality photographs which can easily be emailed to you should you wish to see other examples of the work that we do and are available at consultations.
We hold open days at our design studio in the spring and the autumn where we have a large range of display cakes available to view or you can come and see us at one of the many wedding fairs at which we exhibit. Details are available on all the wedding cake pages of the website.
Can I arrange a tasting session? Do you provide samples?
Naturally, we understand that you will want to taste our cakes before committing to ordering with us. We offer sampling for all wedding cake customers. If you chose to book a consultation we will provide a sample pack containing two of our sponge flavours that you can take home and enjoy at your leisure. This will give you an idea of how we bake and, for most customers, is enough for them to decide to proceed to confirm their booking.
We offer a range of up to 20 different cake flavours and various special diet cakes so instead of offering individual tasting sessions where you'd be limited to choosing just a small selection to sample, we have Open Days and Open Evenings throughout the Autumn and Spring where we have our full range of flavours available for tasting so you can come, and even bring one or two family or friends, to select the flavours to serve at your wedding. The next available dates are advertised on our website and social media and we also send out invitations well in advance so you can make a note in your diary!
I also have cake samples available at all the wedding fairs we attend – details of these are on the wedding cake pages.
If, for some reason, you can't attend one of our Open Days or Evenings we can also provide a selection of samples by post to help you select the flavours for your tiers. We will explain how to organise these at the consultation or when we send your quotation. If you wish to order some cake samples before committing to a consultation or quotation, or you would like additional samples after attending an Open Day or receiving posted samples, you can order some for a small charge of £25.00. If you then go on to confirm a booking with us £15.00 of this will be deducted from your balance payment.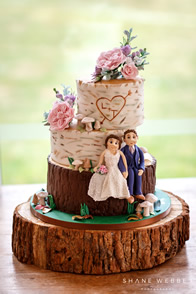 I want a cake with a particular theme – can you help?
Our website shows only a small selection of cakes that we have made recently. It is intended only to give an indication of the work that we do and should not be treated as a full catalogue. Obviously, it includes those cakes which we feel might have a wide appeal to potential customers.
If you are looking for something particular as a theme, colour scheme, style or size please contact us with your thoughts and we'll be pleased to give you some ideas as to how we can incorporate your requirements. We are always full of inspiration and haven't been beaten by any strange or unique request yet – suffice to say our portfolio contains photographs of cakes representing lots of weird and wonderful themes!
I have seen a particular cake I like – will you copy it?
All cake makers are proud of their own designs and cake decorating is a bit like handwriting in that each individual has their own style. However, we are happy to take a look at the designs that inspire you and create our version of your favourite or come up with a unique design incorporating different aspects of several different cakes.
As all cakes and decorations are handmade we cannot guarantee that even copies of our own designs will be exactly the same as the original.
Can we incorporate non–edible decorations such as jewels, diamantes and glitter in our design?
We are constantly updating our knowledge and training in the latest food safety and hygiene regulations. Our premises are inspected by local Environmental Health officers and our staff are regularly trained in basic food safety and handling. We will discuss with you any restrictions regarding the use of decorations such as fresh flowers, non–edible decorations such as jewels, diamantes etc and glitter and advise you on how we can incorporate these into the design of your cake so that you achieve the look you are hoping for without compromising the safety of your guests who will be eating it!
Do you deliver?
Yes, we recommend that we deliver and set up your wedding cake for you.
We have our own delivery drivers and delivery charges are based on mileage (see Prices and Delivery page). The further you are away from us the more expensive delivery will be. We deliver regularly throughout Berkshire, Middlesex, west Surrey, north Hampshire, south Oxfordshire and parts of Buckinghamshire and into Central London. We charge a surcharge for deliveries to addresses with London postal codes to cover the unpredictability of the traffic and additional time required.
Approximate delivery charges for other areas are: Bristol £85, Southampton £55, Central London £65 – £80, Birmingham £80 – £100.
Basic delivery charges assume we will be able to deliver your cake during our normal business hours at a time mutually agreed between us and your venue. On some occasions it may be necessary for us to charge a supplement to our standard mileage charge, for example, where time/room restrictions at your venue mean we have to deliver at a very specific time or for venues where delivery requires more than one person.
How much lead time / notice do you require?
This totally depends on what type of cake you would like and the date that you need it. We can make some wedding cakes with as little as a few days notice but others require much longer. We become very busy during the summer months during the peak wedding season, during the quieter months we can take more bookings at short notice.
Typically, most wedding cakes are booked between 3 and 6 months in advance, although we will take bookings as long as 18 months in advance. All bookings are taken on a first come first served basis and are not confirmed until we have received at least a deposit payment.
Early booking is recommended to avoid disappointment, however please give us a call even if your booking is at short notice – we may still be able to help!
How long does it take make a cake?
The time it takes to actually make the cake is not really relevant. Whether we can accept your order or not is dependent on the type of cake required and other bookings already in the diary for the date you need.
Do you require a deposit? / What is your payment policy?
For wedding cakes a deposit payment will be required which is usually £100 or 50% of the price of your cake, the exact amount will be discussed with you and detailed on your written quotation. The balance payment plus any security deposits for hire items will be required no later than 3 weeks before the wedding.
How do I pay?
We accept major credit and debit cards, BACS transfer, cash and Paypal. Please note we no longer accept payments by cheque. All payments must be cleared before collection/delivery.
What happens if I have to cancel my order?
For wedding cake bookings cancellation charges apply as follows: more than 3 months before the wedding a cancellation charge of £50.00 is payable. If an order is cancelled within 3 months of the wedding the full deposit amount of £100 or 50% of the price of the cake (as agreed at the time of booking) is non–refundable. If the order is cancelled within 3 weeks of the wedding the full cost of the cake and any hire charges is non–refundable.
I have a special dietary requirement – can you help?
Yes we are pleased to be able to offer cakes which are vegan, egg free, dairy free, or wheat free and sometimes a combination of these! However, we do require more notice for this type of cake so please give as much notice as possible.
Sugar free cakes are not really an option!
Most of our sponge cakes do not contain nuts or nut products but as we have nut products in our kitchen we have to advise that all cakes may contain traces of nuts.
My mother/friend/nan/auntie/uncle/cousin wants to make the cake – can you decorate it for me?
Yes, so long as it's a rich fruit cake tier that has been kept / baked we are happy to cover and decorate a fruit cake base that you provide.
Pricing is based on the price of the complete cake, less the cost of the fruit cake(s) you provide so will depend on the size and decoration required. Please telephone us for advice and a price quote. You will be asked to sign a disclaimer confirming the fruit cake base was not made by us.
If I buy a cake from the supermarket will you decorate it for me?
Sorry, we do not decorate ready made cakes.
Can you give tell me how to make my own wedding cake? / Can you give me details of how you made one of your designs?
Sorry, we are frequently asked for details on how to make our cakes and for advice on baking at home; unfortunately, we are simply too busy responding to booking enquiries and making cakes to be able to do this. However we do run courses so we'd love to see you on one of these where we are happy to share lots of hints, tips and experience.
We deliver wedding cakes throughout Berkshire, Oxfordshire, Middlesex, Wiltshire, West Surrey, North Hampshire, Buckinghamshire and into Central London.
Catherine and the team are a pleasure to do business with.

Tessa and Paul – December 2018
2 Montpelier Drive, Caversham, Reading, Berkshire RG4 6PS

Tel: 0118 946 1112

Telephone enquiries:
Mon-Fri 9am-6pm
Saturday 9am-4pm

Cake collections by arrangement
Unit 1, The Byre,
Greenlands Farm,
Cow Lane,
Moulsford,
Oxfordshire OX10 9JT

Tel : 01491 873 332

Mon-Fri 9am-5pm
Consultations by appointment only - please telephone to arrange.
We are based in Caversham, Reading in Berkshire, close to Wokingham, Bracknell and Newbury, and in the beautiful South Oxfordshire countryside at Greenlands Farm, Moulsford, between Wallingford and Streatley and not far from Didcot, Abingdon, Maidenhead, Wantage and Henley-on-Thames.