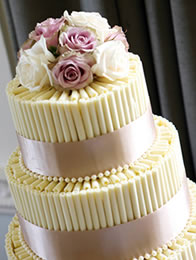 The price of your chosen wedding cake design will depend on several factors
Size of the cake(s) / Portions required
Type of cake (e.g. fruit, sponge, chocolate etc)
Style and complexity of decoration and sugar flowers
How you choose to display the cake (e.g. stacked, on pillars, on a stand)
Therefore, the price for every wedding cake is quoted individually based on the full specification.
However, the following will give you an idea of our starting prices:
Traditional / Contemporary Iced Wedding Cakes
Prices are based on stacked sponge cakes iced in white or ivory with ribbon trim.
Two Tier Wedding Cakes from £200 (to serve approx 50)
Three Tier Wedding Cakes from £280 (to serve approx 60)
Four Tier Wedding Cakes from £350 (to serve approx 80)
Deluxe Chocolate Wedding Cakes
Prices are based on stacked cakes with cigarillo decoration in white or milk chocolate with ribbon trim if required.
Two Tier from £250 (to serve approx 50)
Three Tier Wedding Cakes From £330 (to serve approx 60)
Four Tier Wedding Cakes From £400 (to serve approx 80)
Cup Cakes & Individual Cakes
Cup Cakes from £3 each
Based on a plain cake with white or ivory flat icing / Minimum order 24 cup cakes

Individual Cakes from £8 each
Based on a plain cake with white or ivory icing / Minimum order 12 cakes
For detailed prices please see the price list on the
Wedding Cup Cake
page
Decoration Only
We do take on orders for covering and decoration of customers' own fruit cake bases. Prices are calculated by taking the full cost of the cake and deducting the cost of any fruit cake bases provided by the customer. Please contact us for more details. (Please note we do not decorate sponges that we have not made ourselves or shop bought cakes).
Delivery
We recommend that we deliver and set up all wedding cakes so that we can ensure they are stored, transported and set up correctly. We can deliver your cake on the day of the wedding and take care of contacting the venue on your behalf to arrange this and, where possible, we set the cake up in position at your venue.
Delivery is free of charge if your wedding is being held at one of the venues where we are the recommended cake supplier. Otherwise delivery is calculated based on a charge of £1.00 per mile round trip (minimum charge £20.00). Full delivery details and charges will be discussed and agreed with you at your consultation or at the time of booking.
However, if you prefer to collect the cake from us yourself this can be arranged from either of our addresses. We will provide advice and instruction on how best to transport it and set it up. However, once it has been collected from us, Celebration Cakes, cannot be held responsible for any damage caused in transit, storage or set up of your cake.
We deliver wedding cakes throughout Berkshire, Oxfordshire, Middlesex, Wiltshire, West Surrey, North Hampshire, Buckinghamshire and into Central London.
Catherine and the team are a pleasure to do business with.

Tessa and Paul – March 2012
2 Montpelier Drive, Caversham, Reading, Berkshire RG4 6PS

Tel: 0118 946 1112

Telephone enquiries:
Mon-Fri 9am-6pm
Saturday 9am-4pm

Cake collections by arrangement
Unit 1, The Byre,
Greenlands Farm,
Cow Lane,
Moulsford,
Oxfordshire OX10 9JT

Tel : 01491 873 332

Mon-Fri 9am-5pm
Consultations by appointment only - please telephone to arrange.
We are based in Caversham, Reading in Berkshire, close to Wokingham, Bracknell and Newbury, and in the beautiful South Oxfordshire countryside at Greenlands Farm, Moulsford, between Wallingford and Streatley and not far from Didcot, Abingdon, Maidenhead, Wantage and Henley-on-Thames.